Redcar half-marathon attracts hundreds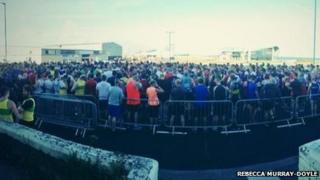 Hundreds of runners have taken part in a half-marathon in Redcar.
The 13.1 mile route starts and ends at the town's leisure centre and takes runners across the sea front on the A1085 Coast Road.
The 31st half-marathon will show off the seafront's recent £75m regeneration which includes Redcar's Beacon, Redcar and Cleveland Council said.
All road closures surrounding the route are expected to reopen at about 14:00 BST.
Olwyn Peters, from the council said: "We have running clubs from all over taking part and internationals as well and with 1,300 people in such a small space, it's wonderful.
"We usually get quite a lot of spectators and that really cheers the runners on and it all adds to the day."