Tees Dock workers mark port's 50th anniversary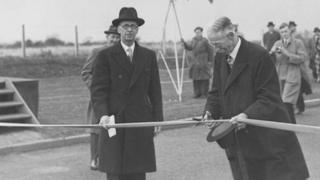 This week marks the 50th anniversary of the official opening of Tees Dock. The port, near Middlesbrough, is now the country's third largest. BBC News spoke to former workers about their memories of life down the docks.
Walking around the present day Teesport, retired docker John Wade is amazed by the scale of the operation.
"In 1963 all you had at Tees Dock was two cranes, one brick shed and a cabin for the dockers," he said.
"It was a brick cabin with coat hangers and nothing else. Nobody could have imagined how it would change."
The port now handles 40m tonnes of cargo each year and about 1,500 people pass through every day.
Mr Wade, 78, was among dozens of men who transferred to Tees Dock from Middlesbrough Dock, just along the River Tees.
Half a century on, he is still telling tales of hard graft and endless banter with his workmates.
"Middlesbrough dockers back then were the best in the world because they were perfectionists," he said.
"Dockers had to be able to do everything. Loads had to be flat and flush. The only thing that I saw go on a ship that wasn't put on by dockers was a racehorse."
Staff past and present are being invited to anniversary celebrations this week and while reminiscing will be top of the agenda, bosses at parent company PD Ports have one eye on the future.
Steel from the nearby SSI plant now sails to Thailand from the port and chief executive David Robinson said "major investment" was planned for the next three years that would see "bigger ships" dock on Teesside.
Former docker Mr Wade gathered together a group of former colleagues to share stories from their days spent loading ships bound for all corners of the globe.
Peter McGee, 74, recalled a recruitment process that was short and to the point.
"There were three questions, 'can you read, can you write and can you carry 16 stone on your back?' and if you answered yes to all three questions you got a job."
Mr McGee said certain shifts took on legendary status among dockers thanks to the backbreaking quantities of cargo that were moved.
The "white mountain" in the late 1960s saw so much salt loaded that the men could barely enjoy a beer to toast their efforts because their muscles were so sore, he said.
"They went for a pint afterwards in Middlesbrough and it took them 20 minutes to pick the glass up from the table."
In those days, the vast majority of work was done by hand. Now, Mr McGee says, technology means "they can do in about two minutes what we did in a shift".
Fellow dockers Terry Brown, 71, and Trevor Hodgson, 68, agreed that despite the backbreaking work, the atmosphere on shift meant time often flew by.
Mr Hodgson said: "There's no job in the country where the banter could be any better."
"It was a pleasure to go to work," Mr Brown said.