Middlesbrough Transporter Bridge closure extended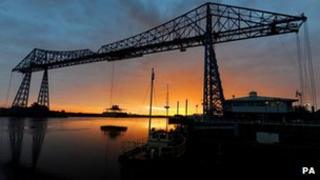 The closure of Middlesbrough's Transporter Bridge has been extended until mid-November for £2.6m repainting and renovation works.
Middlesbrough Council said preparation work on the Grade II-listed bridge had proved more extensive than expected.
The council said the work was a "vital part" of its maintenance.
Executive member for environment Nicky Walker said the long-term benefits would "outweigh the short-term inconvenience".
The original 40-day closure of the bridge had been delayed until 27 August to avoid disruption for those using the crossing over the bank holiday.
A replacement bus service between Middlesbrough and Port Clarence will be in operation during the works.
The project, which is being funded by a Heritage Lottery Fund grant, will include lift access to the upper walkway, improvements to the visitor centre and the development of new heritage and sculpture trails.