Middlesbrough Council agrees £14.9m budget cuts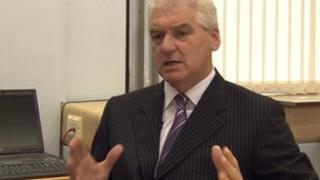 Hundreds of jobs will be lost after cuts totalling £14.9m were agreed by Middlesbrough Council.
Elected mayor Ray Mallon said the budget reductions were "savage" but added the authority had "no choice".
At a meeting at Middlesbrough Town Hall it was also agreed to increase council tax by 1.82% - a rise of 57p per week on a Band D property.
Protestors have accused the council of "meekly lying down" in the face of government austerity measures.
£67m reductions
A council spokesman said 300 local authority jobs would be lost, while another 300 would be "transferred to partner organisations".
The Labour-run council said it needed to achieve total budget reductions of more than £67m over the next three years.
Councillors voted 30-10 in favour of accepting the proposals, but ahead of the meeting a protest took place outside the town hall.
Steve Cooke, of Teesside People's Assembly, said: "I appreciate the position the council has been put in by government austerity cuts and budget constraints, but what are they doing to campaign against them?
"They're just meekly lying down and doing as they're told."
'Town's pain'
Mark Edmondson, area organiser for the union Unison, said: "These cuts will be affecting frontline services and the most vulnerable in society around the Middlesbrough area."
Opposition deputy Conservative leader Hazel Pearson said all four Tory councillors voted against the budget due to the proposal to increase council tax bills, but she welcomed a pledge to avoid compulsory redundancies among staff.
Mr Mallon, an independent who has been mayor since 2002, told the meeting: "This pain that this town and area has suffered is since the coalition government was formed.
"Their cuts are too quick, too deep and too savage - leaving us with no choice."