SSI boss warns Teesside steelmaking could be under threat again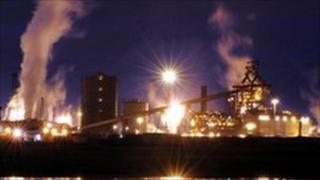 Steelmaking on Teesside could once again be under threat unless the company that owns Redcar's blast furnace begins to make a profit, its boss has warned.
Thai-based SSI reopened the plant in April 2012 after it had been mothballed by previous owner Tata Steel in 2010.
It is yet to turn a profit despite producing five million tonnes of steel.
But SSI UK's Cornelius Louwrens added he is optimistic the company could soon "turn it around".
Speaking to BBC Tees, chief operating officer Mr Louwrens said: "Our aim is by quarter two [of 2014] to be profitable.
"SSI is not a big company. We've just passed five million tones [of steel produced] and all of that loss-making.
"It's just not sustainable, so unless we can turn this business around it will not be here.
"There are many opportunities. We can turn it around, we can be profitable."
'Huge investment'
Redcar MP Ian Swales said: "I know cash has been short and times have been tough, but if everyone does their bit there's excellent business potential."
The company has pointed to costs around carbon allowances as a key issue and Mr Swales added he is helping the firm explore ways to reduce them.
Rachel Anderson, head of member relations for the North East Chamber of Commerce, believes SSI deserves "a huge amount of credit".
She said: "They came from effectively a standing start with a huge investment in new equipment and some turnover in the workforce in the teeth of the worst recession we've had in years.
"In two years, they're on the cusp of turning a profit. There's real optimism for the future."
About 1,800 people work at the former Corus plant.