Campaigners opposed to Stockton housing in council debate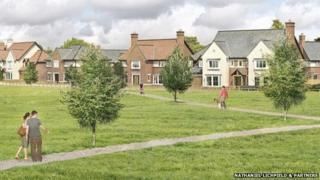 Campaigners opposed to housebuilding in parts of Teesside have taken their fight to their local council.
A Stockton Borough Council debate was staged at the Stockton Baptist Tabernacle on Wednesday.
It was called after members of the Save Stockton South group raised a 2,500 name petition against developments in Yarm, Eaglescliffe and Kirklevington.
The Labour-run council says government guidelines have taken planning control away from local authorities.
About 100 members of the public attended the 75-minute meeting, which saw a campaigner present a five-minute speech before the council debated two submitted questions centring on how planning decisions are made and parking.
Despite opposition, in recent years the council has approved plans in Yarm for 350 homes at Morley Carr Farm and 370 at Green Lane as well as almost 850 at the former Ministry of Defence site at Allens West in Eaglescliffe.
Save Stockton South's Sandra McLeavy says the group's concerns stem from what members believe have been "inconsistent" decisions by the authority.
She said: "I don't feel that we really got the chance to have our say at the meeting.
"We had to submit eight questions the week before, but only two were raised in the meeting concerning how decisions are made and parking."
However, council leader Bob Cook said it followed council protocols.
"The petitioners bring an issue to the attention of the council, but it's not like a public meeting. It's a debate for councillors," he said.
"We have to deal with planning applications through the National Planning Policy Framework and every one must be judged on its own merits.
"Each one that has been approved has satisfied planning requirements."
The council has offered to broker a meeting between planning officers and members of the protest group.