Cleveland Fire Brigade to cut 114 firefighters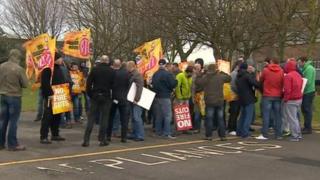 Cleveland Fire Brigade is to axe 114 firefighters as part of a package of cuts to save almost £6m.
The Fire Brigades Union (FBU) said the move, which also includes the closure of a fire station in Middlesbrough, would put lives at risk.
The brigade, which employs 400 full-time firefighters, said tough decisions had to be taken in the wake of "severe government cuts".
Union members mounted a demonstration as the budget meeting took place.
'Sad day'
Cleveland Fire Authority chairman Robbie Payne said: "We don't want to have fewer resources and less firefighters, but we have to accept that we have less money to run the brigade and therefore need to change how we do things.
"The decision to approve the proposals was a difficult one, but sadly one that had to be made.
"Cleveland Fire Authority believes that by taking the proposals forward, we will still be able to maintain a high level of service which keeps our community safe."
Chief Fire Officer Ian Hayton added: "This is a very sad day in the history of the brigade. We don't want to make any cuts, but with a significant budget reduction we don't have any choice.
"The approved proposals, I believe, will have the least negative impact on service provision and most importantly community and firefighter safety."
Area FBU secretary Davy Howe said: "The public are now at risk from these dangerous cuts that the fire authority have voted through.
"Local firefighters are deeply upset, angry and frustrated
"This is not the end of our campaign to put public and firefighter safety first."