Northumbria Blood Bikes extend service to Darlington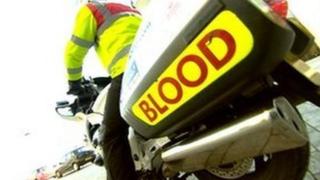 A 'blood bikers' service which sees motorcyclists deliver life-saving blood products is being extended to another North East hospital.
Darlington Memorial Hospital is teaming up with Northumbria Blood Bikes - a group of volunteers.
The hospital currently receives two deliveries per day from the NHS Blood Transfusion Centre in Newcastle.
But now the bikers will be available to pick up and deliver blood out-of-hours between 19:00 and 07:00.
A lack of a dedicated service had meant the hospital was using taxis and ad hoc deliveries from the transfusion centre.
Russell Irwin, haematology and transfusion manager at Darlington Memorial Hospital, said: "Blood products are essential to our work.
"And the blood bikers offer a dedicated means of courier transport to replenish supplies quickly and efficiently when they are running low."
Now with around 80 members, the bikers set up their group last year. Similar ones operate elsewhere in the country.
They are all advanced-level trained motorcyclists and attend a blood handling course.
Biker Owain Harris said: "Our service is provided free of charge and means the NHS can save money which would otherwise be spent on taxis or couriers."
The partnership with the Darlington hospital will be launched on Monday.
Wansbeck in Northumberland, Gateshead's Queen Elizabeth and South Shields' South Tyneside District Hospital also use the service.