Lucas Bishop murder: James Murphy jailed for life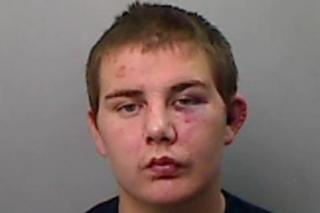 A man has been jailed for life for the murder of a friend he stabbed several times in the back.
Lucas Bishop, 20, was found lying in a pool of blood on a road near Ellerby Green in Berwick Hills, Middlesbrough, on 8 September.
Newcastle Crown Court heard 21-year-old James Murphy had been in a fight with Mr Bishop shortly before the stabbing.
Murphy, who admitted murder, was told he must serve at least 18 years in prison before he can be released.
Trampoline
The court was told the men had been in a fight on Barsby Green, before going their separate ways.
But CCTV sightings show they returned to the Ellerby Green area at about 06:40 BST, when the stabbing is believed to have taken place.
Mr Bishop was wounded in the neck and six times in the back.
The court heard Murphy, of Westerdale Road, went home afterwards and admitted stabbing Mr Bishop, saying he "believed he had killed him".
CCTV showed Murphy returning to the scene and then back to Westerdale Road before the police arrived.
Cleveland Police found the murder weapon on a trampoline in a garden on Ellerby Green.
After sentencing, Det Insp Mark Dimelow of Cleveland Police said: "Throughout the investigation and during his interviews, Murphy has shown no remorse or compassion for his victim.
"He is an extremely dangerous and violent individual who will now face a substantial time in jail."