Sunflowers honour fallen Stockton soldiers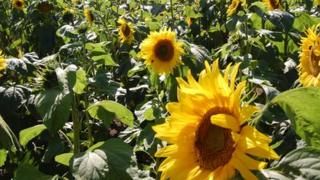 Sunflowers are being planted in a North East borough to remember soldiers who lost their lives during the Great War.
According to records, 1,245 men from Stockton died during WW1 and, to mark the centenary of its outbreak, seeds are being given away from 27 April.
Each pack comes with a tag bearing the name of a soldier to tie around stalks and instructions on how to grow the flower.
They will all be cut down in August and taken to special service.
The project is being run by Stockton Council.
Seeds can be collected from Preston Hall Museum, Wynyard Woodland Park Visitor Centre and Stockton Central Library.