Teessaurus dinosaur park closure threat lifted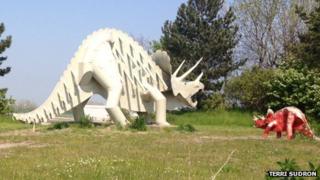 A Middlesbrough visitor attraction featuring dinosaur sculptures is to remain on its current site, after a threat to close it was lifted.
Teessaurus Park opened in 1979 on a former industrial site on the bank of the River Tees, but in 2012 the council announced plans to sell off the land.
There were fears the park would be closed and the sculptures disposed of.
However, the council has now reduced the amount of land for sale, and the park itself will be redeveloped.
A viewing platform, new path and car park will be created.
Councillor Dave Budd, the town's deputy mayor, said that since the sites were put up for sale in 2012 they had been working with a number of agencies on the proposals.
"The Teessaurus Park half of the plot includes local wildlife and a number of rights of way, so it was important to strike the right balance between preserving and enhancing these important elements of the site, while bringing unused industrial land back into use.
"These plans allow us to both bring in finance through the disposal of a chunk of the land, while keeping and making improvements to the park."