Car doors found in Eston Nab litter pick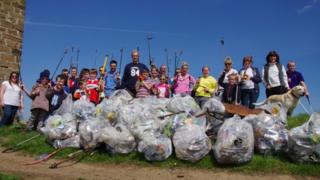 Scaffolding poles, deck chairs and car doors are among items found in a litter pick at part of a hillside recently bought by residents after a fundraising campaign.
A total of 50 bags of rubbish were collected at Eston Nab on Teesside.
The Friends of Eston Hills raised £15,000 to purchase part of the site last year when it was announced it was being sold off.
About 50 members turned up to clear decades' worth of litter.
Craig Hornby, chair of the group said: "We made history bringing the site back into public ownership and I think we've made history today because I don't think the place has ever had such a deep clean."
The group's next campaign is to remove all the graffiti from the Nab rocks.
"We've been advised that we need to work with an industrial jet washing company," Mr Hornby said.
"We may well need scaffold too so any companies out there who can help us please get in touch. We can't do it alone".