Teesside patient set on fire during hospital operation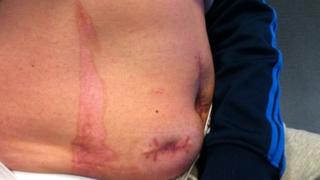 A Teesside hospital is investigating how a patient's stomach was seriously burned during a routine operation.
Paul Hill, 43, said alcohol-based steriliser had burst into flames while he was in theatre at the University Hospital of North Tees in Stockton.
The father-of-four from Thornaby is permanently scarred and said it had been "quite traumatic".
North Tees and Hartlepool NHS trust said it took such incidents "extremely seriously".
"A thorough investigation into what happened and what can be put in place to prevent this happening again has almost been concluded," a spokeswoman said.
'Learned nothing'
When Mr Hill came round from general anaesthetic after a hernia operation in March he was told "unfortunately there was a fire in theatre".
Surgeons told him the steriliser used on his skin had been ignited by an electrical instrument which generates heat for a process called diathermy.
The hospital had "learned nothing" from a similar incident which happened at Scarborough Hospital in 2012, Mr Hill said.
"Stop using the alcohol-based substances or, if not, go back to the old scalpels with it," he said. "Don't be putting electrical stuff near alcohol."
Mr Hill said he is still waiting to be told how it happened and what the hospital is going to do to prevent it happening again.
"I've got a young boy with the same disease and he's seen me go through all this and if he's needing surgery in the future what's he going to think - 'I don't want to have that done, you can get set on fire'"?