D-Day: Middlesbrough's unassuming VC hero Stan Hollis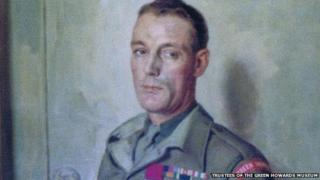 Countless acts of bravery took place on D-Day, but those of Sgt Maj Stan Hollis have been held up as an "example of how, in the pendulum of battle, one man's actions can really change its course".
That's how retired Brigadier John Powell, of the Green Howards, describes his former comrade - the only soldier among the D-Day invasion to be awarded the Victoria Cross.
The 31-year-old from Middlesbrough - who had already fought at Dunkirk and in North Africa - was commended for two acts of valour.
He cleared a pillbox and trenches north of Ver-sur-Mer, taking a number of prisoners, and later rescued comrades under fire in the village of Crépon.
After the war, the unassuming hero rarely spoke about what he had done.
His granddaughter Mandy Hart said: "I just knew him as my grandfather.
"He was very quiet, but I always remember him with a big smile on his face.
"The medal wasn't a massive thing in the family, it wasn't really talked about a great deal. As children, we just accepted it was there.
"He used to save bottle tops and send them off [to raise money] for the blind, and the medal was just kept there in the drawer, with all these bottle tops."
She added: "My grandmother used to love going to all the ceremonies and things, she'd get a new hat and coat and shoes.
"But he only went because she wanted to go, he wasn't very interested."
On the morning of 6 June 1944, Sgt Maj Hollis landed in Normandy with the Green Howards as part of the massive D-Day invasion.
As the men advanced inland, they were pinned down by machine gun fire from a pillbox and he was described as "charging across the open ground with a Sten gun".
Sgt Maj Hollis later said: "They fired back at me and missed. I don't know if they were more panic-stricken than me.
"I got on top of [the pillbox] and threw a grenade through the slit and it must have shaken them up a bit. They were quite willing to forget about the war, then."
Brigadier John Powell said: "Stan then continued along a communication trench, and by that stage the Germans had had enough, probably it was the terrifying sight of seeing Stan charging towards them.
"In all there were about 30 prisoners.
"Now this action was immensely successful, not only did he save the lives of many in his company but by his actions he allowed this route up to the beach to be cleared.
"That was important for the success of D-Day."
By the afternoon, British forces had advanced inland to the village of Crépon, where a German field gun had been installed in farmland.
Sgt Maj Hollis and two Bren gunners crawled through a rhubarb patch to capture it, but were forced to retreat when they were fired upon.
Realising the two other men were not with him, he returned, and, firing from the hip the whole time, got his men to follow him out.
Brigadier John Powell said: "Once again, showing no regard for his own safety, he saved a critical situation."
People in Crépon have not forgotten his actions, and part of the museum in the village is given over to a display of Sgt Major Hollis's story.
His exploits are less well known on Teesside, but this is likely to change when a bronze statue of him is unveiled in Middlesbrough next year.
When Mandy Hart visited Crépon in the run-up to the D-Day anniversary, people would come up to her and thank her personally for everything her grandfather had done for France.
During the trip, she said: "I'm even more proud now of what he's done.
"It's brought it to life for me now, rather than just looking at the pictures and reading the pieces.
"I knew that he'd sort of made the beaches accessible to his company but I hadn't realised how much of a difference it had made, how much of a turning point it was on the day.
"I'm sitting here in what was the rhubarb patch thinking were the guns placed down here, and would he really be aware that the Germans were there.
"And I'm thinking about him landing on the beach in the morning, and how he would have felt by teatime.
"This is something I can tell my children. We want what he has done to be passed down through the generations."