Vixen out-foxes RSPB Saltholme wardens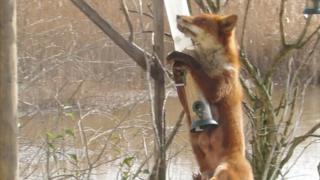 Wardens in a Teesside nature reserve have been forced to install a special feeder for an acrobatic fox, to stop it stealing the birds' food.
The vixen regularly jumps up, unhooks and carries off seed containers from the feeding stations at RSPB Saltholme.
To cut down losses of the expensive bird feeders, wardens have been filling water and juice bottles with seed.
These are targeted and removed by the vixen, which has cubs, and the others are left behind for the birds.
The assistant warden Dean Heward said: "People often don't realise that foxes eat such a wide variety of food.
"Yes, they eat prey items such as voles, mice and birds, but they also eat brambles in the autumn, and are regular visitors to the feeding stations around the reserve where they munch on seeds."
He added: "There's really no point in trying to stop her from taking food from the feeding stations.
"Foxes are well known for being clever, so we put up 'her' feeder and she leaves the others behind for the birds."