Stockton and Durham free schools struggling to fill places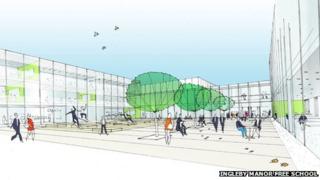 Two of the government's new free schools in north-east England have filled fewer than two-thirds of their pupil places, according to new figures.
Ingleby Manor Free School, in Stockton, and Durham Free School have both failed to hit their recruitment targets.
Critics say this shows the projects are a waste of public money.
But the schools, which are both currently on temporary sites, say they expect pupil numbers to grow when they move into permanent buildings.
Free schools, which the government introduced in 2010, are new publicly funded schools set up by private individuals, businesses and other groups.
Ingleby Manor has so far recruited about 70 pupils in year seven, compared to its original plan for 120.
It will open in September in a converted unit on an industrial estate, before moving to a permanent site by the end of 2015.
Durham Free School opened in September 2013 on a temporary site, offering a "traditional Christian ethos".
'Half-empty'
This academic year it attracted just 34 year-seven pupils, compared to its target of 60, and has filled just 54 out of 90 potential year-seven places for the coming autumn.
Ingleby Manor's principal David Willard said he thought demand would increase once parents saw the "wonderful provision" being offered.
Local parents led a seven-year campaign to get the new school because they were unhappy their children must travel to other towns for secondary education.
Education Secretary Michael Gove praised their "passion".
But Ann McCoy, Stockton Council's Labour cabinet member for children and young people, said Ingleby Manor would cost millions and would harm nearby schools.
Durham Free School said its shortfall was down to uncertainty over a permanent site, which would be resolved "very soon".
But the regional organiser of the teaching union NASUWT Simon Kennedy said money invested in "half empty" free schools could be better spent elsewhere.
A Department for Education spokesman said the two schools were "a response to demand from local parents to further improve educational standards and choice".