Stockton Council to consider £1m giant climbing frame plan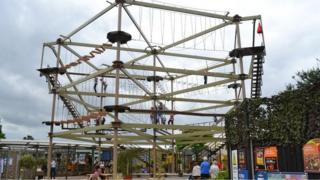 A giant 59ft (18m) climbing frame could be built in Stockton if it is given the go ahead by the council.
The £1m four-storey high ropes course would be built next to the white water course at the Tees Barrage.
If approved, it is estimated the Sky Trail, which would be the highest in the UK, would generate £100,000 for the local economy.
Stockton Council said it is hoped that offering something "new and different" will draw visitors from far and wide.
Cabinet member for leisure Ken Dixon, said: "The impact that the Sky Trail could have on the local economy should not be underestimated.
"High ropes facilities in other parts of the country are very successful and have brought a significant increase in footfall - I'm confident that Stockton would reap the same benefits."
The cabinet will decide on the proposal on 17 July and if agreed, the development will be considered for planning approval.