Stockton Riverside College lecturers must reapply for jobs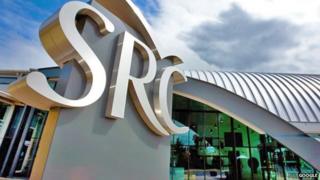 More than 100 lecturers at a Teesside college have been told they must reapply for their jobs as part of a "restructuring" move.
Stockton Riverside College said 113 staff were affected and expected "a worst-case scenario" of 10 people ultimately being made redundant.
It blamed "20-30% cuts in government funding for all colleges over the last four years".
The University and College Union called the news "devastating" for staff.
Those affected have entered into a 45-day consultation period, which will run until the beginning of September, with the new structure in place for the start of the academic year.
College principal Phil Cook said: "We are disappointed that we need to lose valued staff, but it is simply not possible to keep the status quo.
"The vast majority of staff will receive the same or increased salaries, with the slim possibility that a few will have reduced salaries.
"However, these staff will have their existing salaries protected for a year."
'Coward's approach'
The college said total staffing numbers would actually increase over the next 12 months as it created new roles.
Iain Owens, regional official with the UCU, said: "The college has taken the coward's approach and hit staff with this devastating news just as they break up for the summer.
"Telling staff heading off on holiday that they may not have a job when they return is unacceptable."
Lynne Kirkwood, college vice-principal development, rejected the claims and said it followed a restructuring of management roles undertaken in recent weeks.
She said: "It's not ideal timing, but staff have been aware of plans for a while and we've been consulting with the union since mid-June."