Missing David Zikhali: River Tees search suspended for night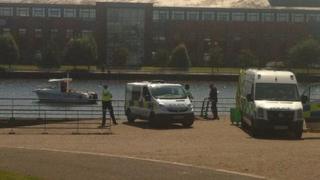 The search for a swimmer missing in the River Tees has been called off for the night.
Student David Zikhali, 20, got into difficulties near the Millennium Bridge in Stockton on Monday evening.
The RNLI and a dive team from Northumbria Police have been looking for him in the river.
Macaulay Hulme said he jumped in the water to try and rescue his friend. "He was panicking and pushing me away," he said. "But then I just lost him."
Mr Hulme said a woman had thrown a lifebelt into the water to help his attempted rescue.
'Absolutely devastating'
Cleveland Police said they did not expect to find Mr Zikhali alive.
Ch Insp Sharon Cooney said: "All of our inquiries lead us to believe that this is now a recovery operation, sadly, rather than a rescue operation."
The dive team, which can only spend a certain amount of time in the water, will resume the search in the morning.
Another friend of Mr Zikhali's, Commonwealth Games sprinter Richard Kilty, said the news was "absolutely devastating".
"David was the most loving guy you'll ever meet," he said.
"He's always laughing, he's always joking. He's loved by everyone across Stockton."