Darlington metal detector finds mystery silverware haul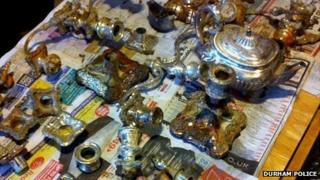 A mystery haul of silverware has been unearthed in a County Durham field, more than 30 years after it was believed to have been buried.
The silverware was found 3ft (1m) underground by a man who was metal detecting in Summerhouse, Darlington.
Taped up in a black bag, a sheet of newspaper was found along with the items, which had a 1982 date stamp.
Durham Police said it was "quite a find", but it was not clear if the property had been stolen or hidden.
'Bit of a mystery'
Now the owners of the haul, which police believe could be of sentimental value, are being sought.
PC Tony Burgess, said: "The silver is in relatively good condition, bearing in mind it has been in the ground for so long.
"It might be that someone has put it there to come back for it, forgotten about it or couldn't find where they had put it.
"It goes back about 30 years. It is not known as a common site for finds. It is a bit of a mystery."
Police said records did not contain anything which would help solve the mystery.