Redcar fisherman rescue commemorated with painting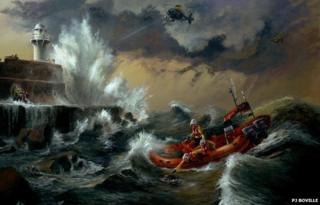 A dramatic rescue in which a fisherman was killed after being swept into the mouth of the River Tees has been commemorated with a painting.
Keith Ellerby, 64, from York, was one of two men swept into the sea at Redcar's South Gare on 24 October 2011. He later died in hospital.
The second man, 63, also from York, survived after making his way to land.
Now a painting done by Redcar artist Philip J Boville shows the lifeboat crew carrying out the rescue.
Dangerous Waters depicts Redcar Lifeboat's Leicester Challenger II and its crew of three attempting to save the drowning sea angler from the waters off the South Gare.
Mr Boville said he was inspired to create the painting after seeing reports of lead helmsman, Mike Picknett, being awarded a British Empire Medal (BEM) for his role in the recue.
"I felt compelled to tell the story, even though it had a tragic outcome, as one of the men died after being air-lifted to hospital," he said.
"The painting therefore stands as a memorial as well as a testimonial to the bravery of those involved."
The painting is currently on display at the Palace Hub Gallery in Redcar.