Newcastle United in Liam Sweeney and John Alder tribute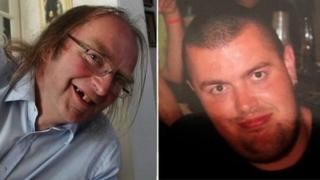 As Newcastle United get their Premier League season under way, two fans are missing. Gone but not forgotten, tributes have taken place for Liam Sweeney and John Alder, two of the 298 killed in the MH17 air disaster.
A minute's silence was observed by fans at St James's Park as they paid tribute to two Newcastle United fans who died on doomed Flight MH17.
Liam Sweeney and John Alder were killed while making a 23,000 mile round trip to see their beloved Magpies play.
Mr Sweeney, 28, and Mr Alder, 63, died along with 296 others when the Malaysian Airways flight MH17 they were travelling on was shot down over Ukraine, on 17 July.
The pair were on the Boeing 777-200ER from Amsterdam to Kuala Lumpur as part of their journey to see United play a pre-season tour in New Zealand.
The death of two members of the Toon Army has shocked the club and its fans, but it has also united them.
Malcolm Pegg, a friend of both men and co-organiser of a memorial service held at St James' Park days after their deaths, said the club and its fanbase have moved closer as a result of the tragedy.
Mr Pegg said: "The club have acted magnificently towards the lads and their families, there has always been a particularly special bond between Newcastle fans and their club and although that's been tested in recent years, the death of John and Liam has really put things into context and brought us all closer.
"Supporting Newcastle was in their blood, they were fans who, like many others, travelled thousands of miles to follow their club and I think that resonates with everyone in the football family.
"Sadly, they paid the ultimate price."
Fans like Mr Pegg are determined the pair, who attended every first team game and were also regulars at the reserve matches, will not be forgotten.
In the 17th minute of Newcastle's first home friendly since the fans' deaths, a 1-0 win over Real Sociedad on 10 August, the crowd stood and applauded for 60 seconds to mark the date and flight number that claimed the Magpie supporters.
Now supporters groups and local paper The Chronicle are calling on fans to repeat the tribute at every Newcastle game this season.
Mr Sweeney's father Barry told the paper: "It's a nice gesture, it would be great if they did it for the rest of the season and they would be part of every game.
"If Liam knew everyone was clapping for him he wouldn't have believed it but he would have been so proud."
The club is also planning its own tributes, starting with the laying of wreaths by Newcastle and Manchester City captains Fabricio Coloccini and Vincent Kompany in the centre circle ahead of the season's curtain raiser.
The two players were joined by members of the Sweeney and Alder families as well as Jimmy Montgomery representing arch-rivals Sunderland, who have set aside traditional animosity to support their neighbours.
An online fundraising page set up by Sunderland fans has raised more than £33,000 in memory of their neighbours.
The online fund was founded to raise £100 for a floral tribute to the two Toon Army members, the rest will be split between the Sir Bobby Robson Foundation and Marie Curie Hospice in Newcastle in accordance with the wishes of the Sweeney and Alder families.
Fund creator Gary Ferguson said: "We may be Sunderland fans, who traditionally have deep rivalry with Newcastle, but there are things far more important than any football games."
And United are planning two permanent memorials to their lost fans.
The Alder Sweeney Memorial Garden will be created outside the Milburn Stand as a place to remember all lost fans.
An opening date is to be confirmed although the club said it would be before Newcastle's home game against Crystal Palace on 30 August.
And they will also launch the Alder Sweeney Community Award which will be presented each year to those who make outstanding contributions to their community.
Newcastle United managing director Lee Charnley said the fact they died while going to follow their team had rocked football fans.
He said: "Supporters travel significant distances and make many sacrifices to support their respective teams, and the fact John and Liam lost their lives in the course of travelling across the world to support their team is something felt by everyone.
"The North East is an amazing place and the sentiments and actions since this tragedy have shown that in times of difficulty the region comes together as one."
Tributes are also being paid away from the football world.
Morrisons, the supermarket chain where Mr Sweeney worked, raised funds the day before the Premier League opener with staff at 18 stores wearing either Newcastle or Sunderland shirts.
Supporters are organising a fundraising tribute night in aid of the two families at the Labour Club in Newcastle on 6 September.
Mr Pegg said: "We are more than just football fans, we are a family and what happened to John and Liam has hit us hard.
"They will not be forgotten."