Sabic UK chemical factory investment safeguards 600 jobs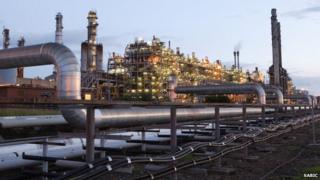 Plans to upgrade part of a Teesside chemical plant are expected to safeguard 600 jobs, its owner said.
Sabic is altering the plant so it can use ethane gas from the US which it says will "significantly" cut costs.
Based in Wilton, it makes products used in the manufacture of plastic drinks bottles, CDs and car interiors.
Sabic said the move will safeguard 600 staff and about 500 contractors "long term", as well as creating hundreds of temporary jobs during construction.
Sabic said it was "capitalising" on the shale gas "revolution" in the US, by upgrading its facilities to use shale gas-based feedstock.
'Transform economy'
The site is used to "crack" ethane into smaller molecules to produce the raw material used in plastics and the upgrade will enable it to improve how this is done.
The cracker conversion will allow Sabic to use its existing facilities to produce olefins and their derivatives "more competitively".
Redcar MP Ian Swales said he was "delighted" and hoped it would "transform" the economy of Tees Valley.
In 2013, the company axed 110 jobs from its 700-strong workforce because of a downturn in business.
Sabic operates in more than 40 countries and employs about 40,000 people worldwide.
The work is expected to be completed in 2016.