Sedgefield firm develops screens for windowless planes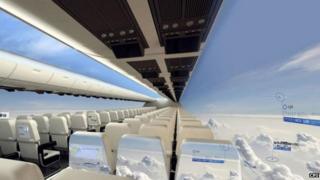 Aeroplane windows could be replaced by TV screens linked to an external camera, giving passengers improved views, thanks to technology being developed by a County Durham company.
The Sedgefield-based Centre for Process Innovation (CPI) has developed flexible TV screens to replace fuselage windows.
The company said no longer having dozens of windows would strengthen the plane and improve fuel efficiency.
It said the screens would change the air travel experience for passengers.
Other companies are also developing flexible screens, including for TVs and mobile phones, while the American firm behind a supersonic jet have said they plan to use screens instead of windows.
Tom Taylor from CPI told BBC Tees: "Only a couple of passengers can see out of the window at the moment so the idea here is that we put plastic high definition TV displays throughout the fuselage so that all the passengers can get a view."
The screens, which would encase much of the plane's interior, could be hooked up to external cameras to give a real time view.
Mr Taylor said: "Windows are the heaviest bit of the fuselage, every kilogram you take out of the plane saves $1m (about £600,000) worth of fuel during the lifetime of the plane.
"It extends the range of the plane so potentially you could fly all the way to Australia and New Zealand in one go."
Mr Taylor said the technology could be in place within 10 years.
Professor Andy Beeby from Durham University's chemistry department said Organic Light Emitting Diode (OLED) technology would revolutionise everyday screens and light, but he was not a fan of it being used in place of airline windows.
He said: "The idea of not having windows in planes has implications for fuselage strength and fuel, but I think it will be quite claustrophobic travelling in a metal tube with no windows.
"But this technology is our future, the uses for it are countless, from showing adverts on our shopping bags to camouflaging soldier's rucksacks, it will revolutionise our lives."