Lancaster Bomber visits Durham Tees Valley Airport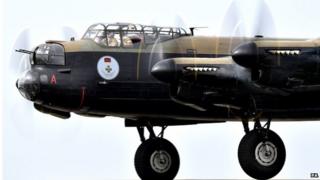 One of the only two remaining airworthy Lancaster Bombers in the world has visited County Durham.
The World War Two plane, which belongs to the Canadian Warplane Heritage Museum, came to Durham Tees Valley Airport as part of a two-month UK tour.
Organisers said thousands attended the event, which also featured other aircraft and military vehicles.
The Darlington airport served as a wartime base for Royal Canadian Air Force flyers.
Adam Cooper attended with his grandfather Harold, who was shot down in a Lancaster Bomber during the war.
He said: "He hasn't sat in once since. He wanted to sit in the seat he was shot down in and we didn't think it would be possible.
"But he's managed to get up the stairs and on it and I'm over the moon for him.
"He's so happy, it was actually his dying wish to sit in this seat before he died."