Binchester Roman Fort development fears allayed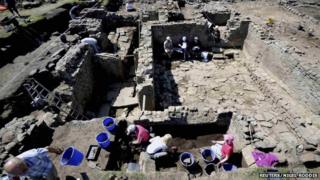 The owners of a Roman fort near Bishop Auckland, County Durham, have moved to allay fears that it could be developed following it being put up for sale.
The Church Commission said Binchester Roman Fort is protected from alteration by strict regulations.
It added that it was disappointed after one of the bidders said they wanted to buy it to stop it "falling into the hands of developers".
The Auckland Trust made the comment as they bid £2m for the ancient monument.
A spokesman for the Church Commission said: "There are strict statutory protections for the fort which make it a criminal offence to carry out any works which would demolish, damage, remove, repair, add or alter the monument without permission from the Secretary of State.
Decision next month
"In addition, Durham County Council retains a deed of guardianship for the site which ensures public access.
"These statutory protections will continue to apply to any prospective purchaser of the land.
"Consequently, any suggestion about the fort falling into the hands of developers is very wide of the mark."
The fort was put up for sale as two lots in July and the Church Commission said a number of parties have expressed an interest in it.
The deadline for enquiries is 18 September.