Bombardier Robert Key: Street named after grenade hero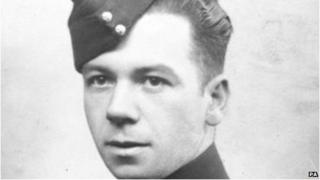 A street has been named in honour of a County Durham war hero, who died saving the lives a group of French children.
Bombardier Robert Key grabbed a grenade from a child who had unwittingly pulled out the pin in the town of Annezin in September 1944.
A memorial already exists to Bombardier Key in the small town, which is about 30 miles south of Calais.
Now a street in his home town of Hamsterley in County Durham has also been named after the hero.
Robert Key Mews is now part of a new estate built by Derwentside Homes.
A plaque outside number one reads: "These houses are named in remembrance of Bombardier Robert Key born in Hamsterley in 1914 died on 5th September 1944 saving the lives of children in Annezin, France."
'Such a hero'
His niece Gilly Mills, 59, from Coventry, who attended the naming ceremony, said: "He was wounded at Dunkirk, and went back out to France on D-Day and survived all that.
"They liberated Annezin on September 4 and the next day they were in a camp on the outskirts of town and a group of schoolchildren came out to see the soldiers.
"Robert was the only one who could speak French so they gathered around him. One of the children took a grenade from the back of the truck and pulled the pin out.
"Robert screamed at them to run, grabbed the grenade from the child and went to throw it away. But before he could really throw it, it exploded and he was fatally wounded.
"We are so proud to have somebody in our family who was such a hero."
Derwentside Homes chief executive Geraldine Kay said: "All those who come to live here will have a permanent reminder of the sacrifice he made."