Harehope quarry becomes theatre for Shakespeare's Tempest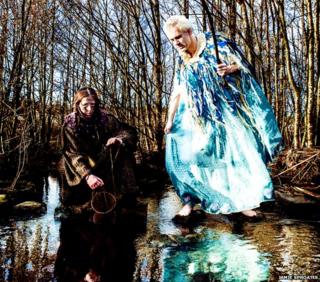 From quarrying lime to quoting lines, a former quarry in Weardale is becoming a theatre for four days.
Drama In the Dale will be using Harehope Quarry as Prospero's Island in a promenade performance of The Tempest.
The group has been supported by the Royal Shakespeare Company's (RSC) Open Stages programme.
The play will be performed over the next two weekends with director Liz Gill saying it will go on whatever the weather - unless it becomes unsafe.
Mrs Gill said the weather had been one of the biggest challenges of using the former limestone quarry.
"I think the only weather type we have not been through during rehearsals is snow," she said.
"It is has been a really interesting experience for us. We have had to adapt the performance to suit the weather."
Mrs Gill, a retired teacher whose previous drama experience includes directing the nativity at Wearhead Primary School, said the problems had been outweighed by the positives.
"It feels like a deserted island before we have even done anything," she said.
"The scenery is already there for us, it is a fantastic place with a lot of atmosphere, it should really feel like the audience have been taken to Prospero's island.
"I also really like the fact that the audience will be moving around the quarry never quite sure of where they are going, much like the characters in the Tempest."
About 30 volunteers have taken part in the Drama in the Dale project, from amateur actors to novice costume creators.
The project started last year with a performance of the Bonny Moorhen including a promenade play at Killhope Mining Museum in Weardale.
Harehope is now an eco project demonstrating sustainable living.
The Tempest will start at 5pm on 13, 14, 20 and 21 September.