Auckland Castle launches £3.5m geothermal heat investigation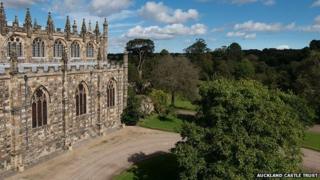 A historic castle's owners are investigating whether they can heat the building using underground water.
Auckland Castle Trust's £3.5m project could see water from deep beneath the surface used to heat the attraction in Bishop Auckland.
They are preparing to apply for planning permission to drill two exploratory boreholes up to 1.11 miles (1.8km) deep.
If viable, the geothermal scheme could also be used to heat parts of the town.
Auckland Castle Trust's chief executive, David Ronn, said: "This is an extremely exciting and innovative scheme that has the potential to provide not only long-term benefits for Auckland Castle but the town of Bishop Auckland too."
Underground reservoir
The project will be funded by the Auckland Castle Trust with the initial stage expected to cost £2.5m. A further £1m could be spent depending on the findings.
A spokeswoman for the castle said a study by Cluff Geothermal indicated Bishop Auckland is likely to be sitting on an underground reservoir of water at 70C (158F) - hot enough to be used for heating but not for electricity production.
The initial test boreholes would be sunk on land owned by Durham County Council next to the North Bondgate short stay car park in the centre of Bishop Auckland.
A 30m-high (100ft) drilling rig would operate 24 hours a day for around three months during the initial test stage and if the scheme proves viable, a pumping station would then be built to bring the water to the surface.