David Watson: Middlesbrough's forgotten artist found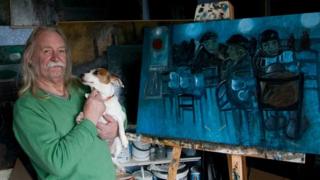 David Watson has been painting his memories of industrial Teesside for decades but no-one seemed to pay attention. Now the "forgotten artist" has been rediscovered and - at 70 years old - he is finally receiving the recognition he never thought possible.
Like his fellow art school graduates, David Watson has spent a lifetime with a paintbrush in his hand.
But while Len Tabner and David Mullholland received international acclaim for their pieces depicting northern industry, Mr Watson was painting ships and houses in Middlesbrough - the hometown which he has only just left for the first time.
The 70-year-old's art has been a private hobby with beloved dog Sammy his only audience - until now.
The past 18 months have seen him elevated into the art world and his work is now being displayed at the National Football Museum, in Manchester.
The change in fortunes is not just exciting for artistic reasons - "They gave me special permission to take my dog in which was good," he beams - but more remarkably the trip to Manchester was his first time outside his native Teesside.
It is also a statement that finally, after decades of painting in his spare bedroom, the artistic world is paying attention to his work.
And according to Mark Parham, the man who discovered his art, it is work that deserves such attention.
"Dave was one of the South Bank school of artists [in Middlesbrough], but unlike his contemporaries David Mulholland and Len Tabner, Dave was forgotten about - until now," he said.
"His work is incredibly important, he is the last industrial painter in the north east of England, these are his experiences and his pictures tell a story, that is why people are so excited about what he is producing.
"It might be based in Middlesbrough but really his images could come from any northern industrial town, this is why people react so strongly to it.
"He shows us a different world and I think there is a sense in all of us that we want to go back to that in some way."
Andy Pearce, from the National Football Museum, said Mr Watson's work captured the mood of industrial Middlesbrough and it's passion for football.
"What Dave captures is that real atmosphere of the fans, the sense of community, the sense that these guys have literally probably only minutes ago left the coal mines, the steel yards, the ship building docks and it's almost like they have downed their pints and there they are are on the terraces at Ayresome Park waiting for kick off," he said.
Curator Mr Parham came across Mr Watson's work on the BBC's Your Painting website and eventually managed to track him down.
The artist spends his days in the spare bedroom of his terraced home, kept company by his dog and memories of Middlesbrough.
His pictures are all inspired by his recollections of the old days, when the town's skyline was dominated by the chimneys of industry.
"It was filthy, mucky and it was black, but it was fantastic," he says now.
"That was my time and I do miss it, that's why I paint it, because that was the world I belonged in."
"Some of his work is literal but other pieces are really quite harrowing, they are mourning the death of industry in his town, you can see his sadness that those times are over," Mr Parham said.
"Industrial art is one of the most collectable genres at the moment and Dave is a real master of it."
---
A life at the easel
David Watson was born on March 4, 1944, on Albion Street in the South Bank area of Middlesbrough
Aged 11 and struggling academically, he was invited to join the Victoria Street Secondary Modern School art club, which met at the end of the school day
Art teacher Tom Dalton taught him and fellow South Bank artists Len Tabner and David Mulholland
Mr Watson said: "Mr Dalton would pummel me, he would say 'get it done, you've got it in you'."
He went on to study art at Middlesbrough College before finding work at Smith's Docks when he was 19.
All his paintings have titles which he writes on the back along with his signature
He used to paint on stretched curtain linings but now prefers MDF board
Mr Watson wakes at 6am each day and spends hours painting, his only companion is Sammy, a nine-year-old terrier who never leaves his side
---
Mr Watson describes many of the figures in his paintings as ghosts, relics of a time long since gone.
While his fellow artists pursued a career painting pictures, Mr Watson got a job painting ships working gruelling shifts in the docks as a red leader, the name given to those coating hulls with toxic anti-corrosive red lead.
After several years in the shipyards he became a painter and decorator in his hometown, raising the tantalising prospect of there being hundreds of homes which feature his now-sought-after brushworks on their walls and ceilings.
With his wife Brenda and three children to care for, Mr Watson said earning a wage was the priority.
"I had to put bread on the table, simple as that.
"I was still painting my pictures but I had to work to keep the family going.
"I would say to my wife 'do you think anything will ever happen with my art?'. She would say wait until the right one comes along.
"I never gave up painting but I never thought it would get to be like this."
Mr Watson, whose wife died several years ago, did try and get his work known by sending letters to museums and galleries.
Only one, the Kirkleatham Museum in Redcar, gave him wall space and he had two exhibitions there selling about 80 pictures for about £30 apiece in the late 1990s.
"I was really just trying to clear some space for new paintings," Mr Watson confides.
The Museum submitted some of his work to the BBC Your Paintings archive which is where Mr Parham came across him.
His paintings are now worth thousands of pounds.
Mr Parham, who is now Mr Watson's curator, said: "Just think of it. Here was this great artist just working away in his back bedroom, not talking to anyone, just painting for years, and it could so easily have been that we would never have known he existed.
"If Kirkleatham Museum hadn't submitted his pictures on the BBC page we would not know about him. Even when they did, the pictures very nearly didn't get used because no-one could find Dave to agree to them being displayed.
"He is one of the most important artists the North East has produced and we so nearly missed him.
"I am so excited that we found him."