Roy 'Chubby' Brown gets parking fine at hospital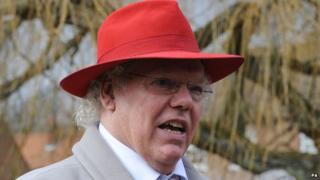 Comedian Roy "Chubby" Brown was wrongly given a parking ticket at a Teesside hospital minutes after handing over a £5,000 cheque to help cancer patients.
Brown, real name Royston Vasey, visited James Cook University Hospital where he was treated for throat cancer in 2004.
However, when the 69-year-old comic returned to his car, he found a £50 parking ticket on his windscreen.
A hospital spokesman apologised, said the ticket was a mistake, and added Mr Vasey had found it "highly amusing".
Last month Brown was fined £30 after he was caught on camera reading a newspaper while driving along the A19 in Yorkshire.
'We're very grateful'
The comic, from East Harlsey, near Northallerton, was given permission to park in the hospital car park but a ticket was written out in error by the private company which operates the site.
A South Tees Hospitals NHS Foundation Trust spokesman said: "We have apologised to Mr Vasey for the oversight, which he found highly amusing, and we are very grateful to him for the very generous donation he made.
"The ticket was issued in error and has been rescinded."
Brown raised the money through merchandise sales and it will go towards the hospital's Endeavour Unit, for use by patients, their families and staff.
On his Facebook page, he said: "It goes without saying these professional skilled and dedicated doctors have [given] me an extra 10 years with my lovely wife and children, thank you never seems enough.
"So I help to raise money for the cause, to rid the world of this rotten disease called cancer."
The comedian is best known for his expletive-laden stand-up comedy, but also scored a hit single in 1995 with a blue cover version of the song Living Next Door to Alice.
His real name was used as the name of the fictional town in which TV comedy The League of Gentlemen is set.