Middlesbrough £25m casino plans in doubt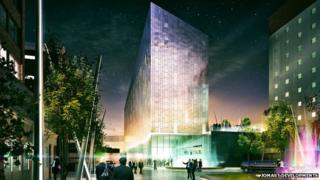 Doubts have been raised over the future of a £25m casino and leisure development in Middlesbrough.
Stockton-based Jomast Developments was given approval in 2012 and planned to start building last year.
But now it will not confirm when work will start or whether the complex is still going ahead, only saying "talks with the council are at an advanced stage".
The company's large casino licence was one of only eight granted in the UK.
Four years previously the then Labour government scrapped plans for a Las Vegas style super-casino in Manchester and, instead, permitted 16 "large" casinos around the country.
Jomast said it intended to convert the vacant Gurney House building into hotels, banqueting facilities, restaurants and a multi-storey car park, creating up to 300 jobs.
It was an opportunity to "put Middlesbrough on the map as a strong leisure and entertainment destination", development director Adam Hearld said in June 2012.
The company will not say whether a casino operator and two hotel chains which expressed interest at the time are still involved.