Norman Cornish studio donated to Beamish Museum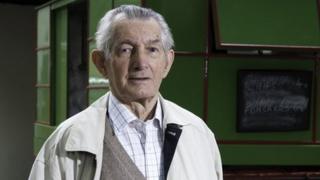 The studio of Pitman Painter Norman Cornish will be moved and recreated at a North East museum.
The family of Mr Cornish, who died in August aged 94, has donated the contents of the studio at his Spennymoor home to the Beamish Museum.
The museum will recreate the studio for members of the public to visit.
The collection includes almost 100 unfinished paintings, dozens of sketches and Mr Cornish's chair and paint-stained carpet.
Attention to detail
Kate Reeder, head of social history and collections management at Beamish, said: "Norman captured everyday life in the North East, from men working in the pits to women gossiping in the back lanes, which we hope to share with people through our own 1950s developments in the future.
"We want to tell the fascinating story of how men, such as Norman, and women joined organisations like the Spennymoor Settlement, the Ashington Group and others to represent their lives through media such as painting and writing."
Museum historians have taken dozens of detailed photographs of the studio so they can recreate it perfectly at Beamish.
Other objects collected from the studio included posters, empty tubes and tins of paint, pots and lids used for mixing, brushes, a framing machine and much of the furniture from the artist's home.
Mr Cornish's family said: "When the studio is displayed, it will provide a fascinating insight into the creation of his art and it will also form another piece of the legacy."