Darlington Civic Theatre gets £5m for Edwardian restoration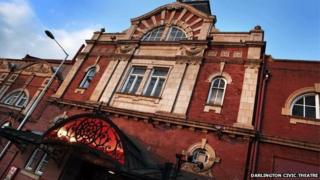 A 107-year-old theatre will be restored to its Edwardian glory after it was awarded £5m by the Heritage Lottery Fund (HLF).
Work at the Grade II listed Civic Theatre in Darlington will include a redesign of the front of the building, creation of a bar in a former water tower and improved seating.
The backstage area will also be overhauled allowing it to house larger touring companies and bigger shows.
The total overhaul will cost £8m.
Nick Wallis, Darlington Bough Council's cabinet member for leisure and local environment, said: "The investment is the biggest in the theatre's history since it opened its doors in 1907."
Lynda Winstanley, Darlington Civic Theatre Director says: "This is incredible news and will help us to ensure this well-loved venue can meet the expectations of modern audiences and touring theatre companies."