Middlesbrough rape victim tells of child grooming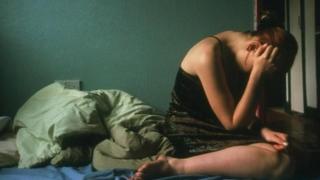 As Middlesbrough discusses the best way to tackle the sexual exploitation and grooming of children, one victim hopes her story will help prevent others from being targeted.
At 13 years old she was befriended by a group of men with promises of car rides and treats.
Within weeks they were regularly raping her.
The woman, now a mother, said her ordeal started in the 1990s.
Speaking to BBC Tees' Lisa McCormick, the woman said the relationship with her eventual abusers started well.
She said: "It started off quite innocent - 'ha'way we'll take you on a drive, have a rally round and we'll smoke some dope'.
"Then they pick you up a couple of weeks later and they treat you, everything was nice, but then before you know it you owe them, and then they get funny."
Signs a child could be being sexually exploited
Going missing for periods of time or regularly returning home late
Skipping school or being disruptive in class
Appearing with unexplained gifts or possessions
Experiencing health problems that may indicate a sexually transmitted infection
Having mood swings and changes in temperament
Using drugs and alcohol
Displaying inappropriate sexualised behaviours, such as over-familiarity with strangers, dressing in a sexualised manner or sending sexualised images by mobile phone
Showing signs of unexplained physical harm such as bruising and cigarette marks
NHS.co.uk
Having befriended her, the men forced her to have sex.
She said: "If you don't sleep with them they take it anyway - might as well just lay back, relax and let it happen, because if you don't they just get nasty.
"I was raped, more than once, sometimes (by) two or three (men).
"No-one ever said to me: 'Listen, these men are wrong'."
Asked if she said no, the woman replied: "Yeah, on more than one occasion, but it fell on deaf ears didn't it?"
She added: "I've come forward because if we get somebody caught for it, it will prevent somebody else getting harmed."
The woman has not reported what happened to the police.
Middlesbrough mayor Ray Mallon says the town has no more of an issue with child grooming than anywhere else and insists the authority is tackling the problem.
He said: "We have got a few issues in this town in relation to child exploitation; we've got to deal with it now before it escalates."
Earlier this week Mr Mallon and his colleagues on Middlesbrough Borough Council's executive discussed a report prepared by the authority's community safety and leisure scrutiny panel.
The panel spoke to a teacher in the town who described child sex exploitation as a "growth industry", with children as young as 11 being targeted.
Mr Mallon said the authority would work with the police and other agencies to tackle the issue.
The safety panel said while the authorities must do more, every citizen also has a part to play.
The panel said: "The importance of the whole community looking out for evidence of child sex exploitation cannot be underestimated."