Crathorne Hall fire 'started by dead flies'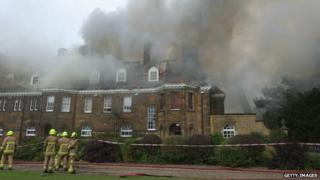 Dead flies were the most likely cause of a fire at a Grade II-listed hotel, the fire service has said.
Crathorne Hall in Yarm was badly damaged by the blaze on 1 October, which started in the roof space of the east wing.
An investigation by North Yorkshire Fire Service has now revealed that it was started accidentally.
The most probable cause was smouldering flies from an electrical fly killer dropping onto flammable material below.
As a result of damage to the popular wedding venue a number of couples were forced to rearrange their nuptials.
Repairs are now under way and managers said they hoped the hotel would be reopened in about a month.
North Yorkshire Fire Service said in a statement: "Following investigations into the cause of the fire at Crathorne we consider the most probable cause of the fire to be an electric fly killer in the roof space of the east wing of the hotel.
"Whilst other possible causes cannot be fully eliminated we are confident that the cause of the fire was accidental."