Bombardier Robert Key: WW2 grenade hero is honoured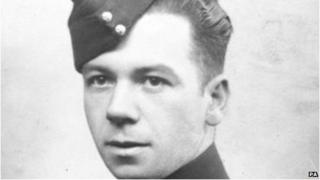 A soldier who died saving a group of French children but whose official war record wrongly states he caused his own death, has been honoured in Coventry.
Bombardier Robert Key, 30, saved the children when he grabbed a grenade from a child in Annezin in September 1944.
Although remembered in France, his official war record states his death was due to "negligent behaviour".
But a campaign by his family, who live in Coventry, has resulted in a memorial.
'Silent tears'
Gill Mills, Bombardier Key's niece, said the family only discovered her uncle's story in 2008, after they were tracked down by the mayor of Annezin.
The town wanted the family to attend a street-naming ceremony for Bombardier Key and contacted them through a genealogist.
"He read out a letter the mayor had written to us, outlining how Robert had saved the lives of these children after one of them took a grenade from the back of an army truck and pulled the pin," said Mrs Mills.
"We knew nothing about it. Our mouths dropped open and silent tears filled our eyes. We couldn't take it in."
Mrs Mills then sent for Bombardier Key's service record and found his death had been put down to his own negligence, following a rushed army inquiry.
"It's such a damning thing to read. I'm still angry about it," she said.
The family tried to get the Ministry of Defence to amend the record but it said it could not make the change posthumously.
Instead Mrs Mills, her brother and cousins campaigned to get a street named after Bombardier Key in his hometown of Hamsterley, County Durham, and a plaque in Coventry's War Memorial Park, where the family moved in 1939.
The Hamsterley naming ceremony took place in September and the plaque, which was given to the family by the French mayor, will form part of a display in Coventry's War Memorial visitor centre.
"We felt he had to have some recognition in his own country for the sacrifice he made," said Mrs Mills.
Lord Mayor of Coventry Hazel Noonan said she was glad the "extraordinary story of selflessness" had been highlighted.