Da Vinci robot carries out prostate surgery in Teesside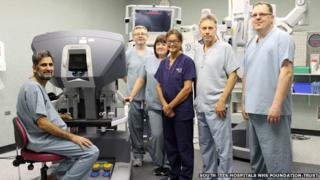 A £1.5m robot has been used in Teesside for the first time to carry out surgery on a prostate cancer patient.
Urologists at The James Cook University Hospital, Middlesbrough, hope the Da Vinci robot will "dramatically improve" surgery outcomes and the speed of recovery as it is less invasive.
Up to 400 patients a year, including 100 men with prostate cancer, should benefit from robotic surgery.
The robot was paid for by public donations.
The first patient underwent surgery on Thursday with the operation being completed successfully over a couple of hours, South Tees Hospital NHS Foundation Trust said.
The machine uses small instruments controlled remotely by the surgeon sitting at a console.
The surgeons use 3D vision and hand and foot controls to control "micromanipulators", which the trust said had a greater range of movement than the human hand.
Consultant urologist David Chadwick said: "Robotic surgery allows surgeons to have improved vision and a greater level of precision than the use of conventional surgical techniques.
"It's a significant development for the trust and, over time, will be used not only to treat patients with prostate cancer but also bladder cancer, kidney cancer, colorectal and gynaecological disease, head and neck disease and thoracic surgery."