Councils consider 11,000 Tees homes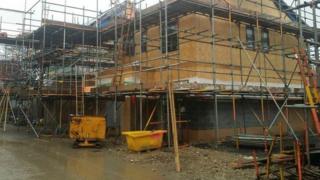 More than 11,000 homes are being considered to be built across Teesside and Darlington, the BBC has learned.
Councils in Hartlepool, Stockton, Middlesbrough, Redcar and Darlington have told BBC Tees how many new homes are currently being processed by their planning departments.
Councillors said the plans are in line with demand.
But critics say many of the new homes could be unaffordable for people in the area.
Hartlepool Council revealed they are currently processing planning applications that could see 4,100 homes built - the highest number of new homes being considered by any local authority in the area.
The Labour leader of Darlington Council Bill Dixon said a growing population is fuelling demand for new homes.
---
Where would the homes be?
Hartlepool: 4,100
Redcar: 2,300
Darlington: 1,800
Middlesbrough: 1700
Stockton: 1,300
Figures provided by Hartlepool, Redcar and Cleveland, Darlington, Middlesbrough and Stockton Borough Councils
---
He said: "In the last five years we've seen the population of Darlington grow by about 7% so there is a need for new houses.
"But there is a need for us to build a variety of new homes, so we need to build four and five bedroom properties for some people whilst we need to build one bedroom properties for others."
Marilyn Wood has been a long-term campaigner against the proposed redevelopment of a site in Middlesbrough.
She said: "11,000 new homes seems rather a lot to me.
"It also concerns that me that a lot of the houses that they're planning to build, like four or five bed properties are simply going to be unaffordable for the majority of people on Teesside."
The Town and Country Planning Association predicts 240,000 new homes need to be built each year across the UK to keep pace with population growth.