Helen Louise Turnbull 'sent underwear picture to boy'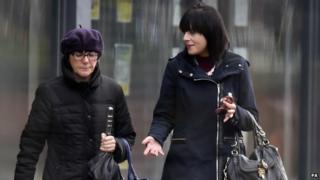 A teaching assistant accused of having sex with a pupil told police she sent him a picture of herself in her underwear, a court has heard.
Helen Louise Turnbull, 35, said to detectives she may have told the 16-year-old she loved him in drunken messages, Teesside Crown Court heard.
The literacy assistant, from Haswell, County Durham, told officers the boy cheered her up when she felt "low".
But she denied the relationship went any further than kissing.
Ms Turnbull is accused of having sex with the pupil and performing sex acts on him on two subsequent occasions.
She denies three counts of sexual activity with a child while being in a position of trust, but admits one count - relating to the kissing.
In a police interview, she said the boy made her feel better during the break-up of her marriage to her husband Ben, with whom she has two children, the jury heard.
'Made me feel good'
She said the schoolboy "could make me laugh or cheer me up" as they swapped messages.
The court heard she told police: "He was the one keen to get me to like him. He was the one with all the compliments and I was more wary."
They met and talked on an industrial estate and the boy initiated a kiss, at which she was "shocked", she said in the interview.
Ms Turnbull admitted she later sent him a picture of herself in her underwear "for attention".
She told the officer she trusted the teenager but denied being in love with him.
Asked if she told him she loved him, she replied: "I cannot remember. Maybe at the end of drunken messages. Certainly not in person."
She said she was not physically attracted to the boy, but that he "made me feel good at the time, when I felt really low and vulnerable".
The trial continues.