Teaching assistant Helen Turnbull denies sex with pupil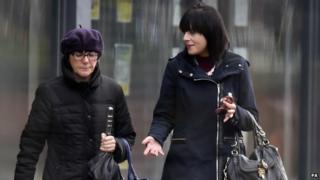 A teaching assistant accused of having sex with a 16-year-old pupil has told a jury she has never been unfaithful to her husband.
Helen Turnbull, 35, told Teesside Crown Court that she did send the teenager sexual messages.
But the literacy assistant, of Haswell, County Durham, said: "I have never done anything sexual apart from kissing. It just never happened."
She denies three counts of sex with a child while in a position of trust.
'Interested in sex'
The mother of two admits one count of the same charge in relation to the kissing.
She is accused of grooming the pupil with sweets, attention and hugs, swapping messages over the internet with him, then having sex with him on three occasions in her Mini convertible.
Anne Richardson, defending, asked Turnbull what the boy expected would happen on the second time they met up in secret.
She replied: "He was quite clear, (he) was interested in having sex."
Miss Richardson asked: "What did you want to do about that?"
Ms Turnbull replied tearfully: "The very thought of it... I have been with the same person since I was 20 years old. I haven't had sex with anyone else."
The court heard that she and her husband have since divorced.
Miss Richardson also asked about the sexually explicit messages the teaching assistant and the boy sent each other.
"I really wish now I had never sent them," Ms Turnbull said.
"It was sexualised chat, being able to flirt with someone, I enjoyed getting some attention."
The trial continues.