Teaching assistant told schoolboy kissing him was 'a guilty pleasure'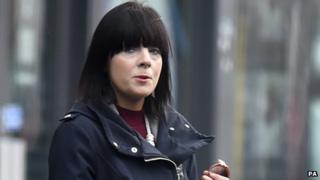 A teaching assistant accused of having sex with a schoolboy said in a message to the teenager that kissing him was "a guilty pleasure", a court has heard.
Helen Turnbull, 35, told Teesside Crown Court that she had secret meetings with the 16-year-old in her car.
The literacy assistant, of Haswell, County Durham also sent a message about their kissing saying "clearly teaching does have its perks", the jury heard.
She denies three counts of sex with a child while in a position of trust.
The mother of two admits one count of the same charge in relation to kissing.
Ms Turnbull is accused of grooming the pupil with sweets, attention and hugs, swapping messages over the internet with him and having sex with him on three occasions in her Mini convertible.
Sarah Mallett, prosecuting, read out some of the messages the pair sent each other over the internet after they first kissed.
The boy wrote: "You love kissing me."
She replied: "It's a guilty pleasure. Clearly teaching does have its perks."
Miss Mallett asked Ms Turnbull if teaching had the "advantage" of giving her contact with people to kiss.
Ms Turnbull replied: "That was a stupid thing to say and I fully admit it. Earlier in the messages I say: 'why am I even doing it?' I was confused."
The trial continues.