Middlesbrough Transport Bridge revamp costs rise to £4m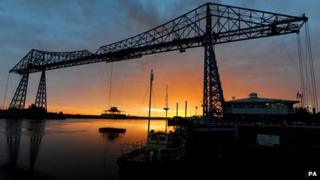 The cost of renovating Middlesbrough's Transporter Bridge has risen to more than £4m, council bosses have admitted.
The Grade II-listed structure closed in August 2013 and was initially meant to reopen after just 40 days.
A Heritage Lottery Fund grant of £3.1m was set aside for the project, which is now due for completion by January.
Middlesbrough Council blamed the extra costs on "significant additional work" which had to be undertaken.
A spokesman said the estimated cost had now risen to £4m, with the shortfall being paid for from the authority's transport maintenance budget.
'Longer work programme'
He added: "Working on a 100-year-old structure over the Tees has proved challenging, with the condition of the steelwork worse than anticipated.
"Unfortunately, there has had to be significant additional work carried out, which has led to a longer work programme than envisaged.
"This has also meant cost increases, which have been covered by money provided by the Department for Transport for highways and transport maintenance and improvement projects.
"The works will be finished before Christmas and following time allowed for testing the bridge, it will be reopened early in the New Year."
A replacement bus service will continue to operate between Middlesbrough and Port Clarence.