Ray Mallon in Middlesbrough bus lane fine U-turn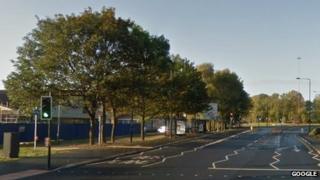 More than 2,000 motorists fined for driving in a Middlesbrough bus lane will be reimbursed, the mayor said.
In a policy U-turn, Ray Mallon said the 2,673 motorists will be reimbursed or not have to pay the fine, saying it was not about "income generation".
For the first seven weeks after the camera was installed on Newport Road on 4 June, drivers had a first-offence warning.
After 26 July, the system reverted to an immediate £60 Penalty Charge Notice.
From now on, a warning will be given for the first offence, but any subsequent breach will result in a fine.
Mr Mallon said: "We are not an organisation that is motivated by income generation at the expense of the public at large.
"The camera was installed with the intention of keeping the bus lane clear so that public transport is assisted in keeping to time whilst travelling through a very congested part of Middlesbrough.
"It was not intended to generate income, but it is true that a financial penalty is an effective way of changing driver behaviour.
"I believe that a proportionate intervention in any form of minor law breaking is the most appropriate policy."