Middlesbrough Mayor slams 'dodgy' Acklam Hall sale claims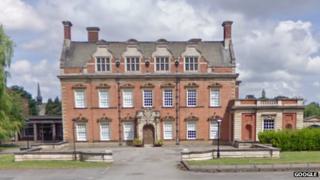 Middlesbrough Mayor Ray Mallon has referred himself to his council's standards committee in response to accusations a land sale was "dodgy".
Mr Mallon said businesswoman Christine Bell and councillor Len Junier had criticised him and his fellow councillors for selling land at Acklam Hall for development.
They referred to it as "dodgy" on Twitter and at a council meeting.
Mayor Mallon said they now had to provide evidence of the claims.
'Taxpayer value'
The independent mayor said: "You have two people here who claim the sale of Acklam Hall was dodgy.
"What those people have got to do now is produce the evidence of malpractice, corruption, or criminality and I will give you a cast iron guarantee they will not be able to produce one shred of evidence.
"Now they've actually got to put up or shut up."
Mr Junier (Independent), who has asked the Secretary of State to investigate the sale of the land, said: "This was all about me having a duty to ask questions and raise concerns wherever they exist.
"All I want to know is did the taxpayers get the best deal possible for that land?"
The hall was valued at about £1m some years ago but Middlesbrough Council has refused to say how much it was sold for.
Critics said the 32 acres of land was worth more more than £20m.
Ms Bell told the BBC she had raised a matter of concern which had not yet been resolved and now awaits the outcome with interest.