Middlesbrough transporter bridge reopening delayed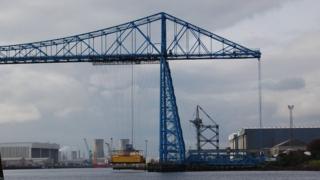 The reopening of Middlesbrough's Transporter Bridge is facing further delays after a company working on the £4m project entered administration.
The 104-year-old bridge closed in August 2013 for an eight-month refurbishment.
However, the scheme suffered several problems, the latest being subcontractor SBV Fabrications entering administration in late December.
Middlesbrough Council said it hoped the bridge would reopen in February.
A spokesman said: "We apologise to Transporter Bridge users for the ongoing inconvenience and are grateful to them for the patience they have shown during the closure.
"The circumstances resulting in the current delay could not be foreseen and we will continue to make every effort to have the newly renovated bridge open again in the very near future."
As well as the refurbishment of the bridge, a new lift and visitor centre have also been built.
A replacement bus service between Middlesbrough and Port Clarence will remain in operation during the closure.