'Red light' tag appeal bid fails at Court of Appeal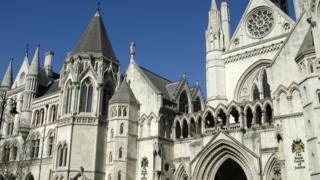 A sex offender from Teesside who argued that having to wear a monitoring tag violated his human rights has lost his case at the Appeal Court.
Paul Richards, 48, was made the subject of a Sexual Offences Prevention Order by magistrates on Teesside in 2012.
He was ordered to wear a tag to alert police if he went into red light areas.
His challenge that the "continuous surveillance" went beyond the terms of the Sexual Offences Act 2003 was dismissed by judges in London.
Richards, who had a string of convictions including kidnapping, harassment and sex offences, took his case to the High Court which, in May, gave him leave to appeal.
'High risk offenders'
However, judges at the Appeal Court said that he posed a "real danger" to women, particularly prostitutes, and magistrates had been "empowered" to order the tagging.
Temporary Deputy chief constable of Cleveland Police, Simon Nickless, said: "Cleveland Police was the first force in the country to apply for a prohibition under the Sexual Offences Prevention Order, which in effect placed a requirement on the offender to wear a GPS location monitoring if he left his home address.
"The monitoring of very high risk sex offenders is a complex undertaking and this tool helps to manage the risk posed by such offenders.
"The decision should ensure public confidence knowing that Cleveland Police do everything within their powers to pursue registered sex offenders and enables us to maintain public safety which is paramount."