Auckland Castle seeks memories of 'people's bishop'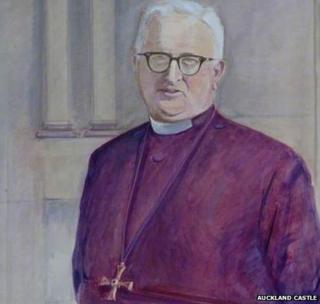 Memories of a man known as "the people's bishop" are being sought on the 100th anniversary of his birth.
Ian Ramsey was appointed Bishop of Durham in 1966, but died in 1972 from a heart attack.
His ashes are interred at Auckland Castle - the home of the Prince Bishops of Durham for more than 900 years.
Curators are now appealing for films, photographs and recollections to build up a "more complete picture of an extraordinary man".
As bishop, Ian Ramsey never forgot his Lancashire working class roots. On his appointment, it is said he went to Buckingham Palace to pay homage to the Queen wearing a cloth cap.
He was described as enthusiastic, friendly and down-to-earth, but his outspoken opinions on moral questions such as abortion and suicide often brought him into conflict with both the church and the establishment.
Clare Baron, assistant curator at Auckland Castle, said: "We know Ramsey's official story, but we want to find out more about those unguarded moments when he took a step back from the religious politics and went out into the community visiting schools, pit villages, social clubs, factories and fetes.
"As such, he would have touched many people's lives.
"We would love to hear from them with their memories of Ian Ramsey, no matter how big or small."
The project will be used in the development of a new interpretation for the castle in 2018, telling the story of the Prince Bishops.