Middlesbrough knife attacker sought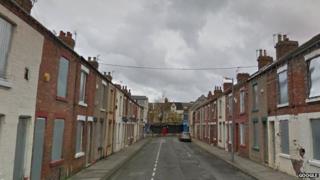 A woman has been robbed and attacked and a man threatened with a knife in Middlesbrough in what police believe are related incidents.
The 50-year-old woman had her hand badly cut after a man took her phone at knifepoint and tried to sexually assault her in Pearl Street at 00:30 GMT on Wednesday, police said.
She was taken to James Cook Hospital.
A 21-year-old man was then threatened with a blade shortly after midnight on Thursday in nearby Princes Road.
The suspect made off without taking anything or harming the victim in the second attack, police said.
The woman had surgery to repair a deep laceration to her hand, but has been left permanently scarred, officers said.
Her suspected attacker was described as Asian, about 5ft 2in (1.57m) tall, in his mid to late 20s, wearing a dark hooded jacket and dark bottoms with a scarf wrapped around his face.
The suspect in the second incident was described as an Asian man with a slim build and wearing tracksuit-type clothing and trainers.
Police are looking to trace a taxi driver who took the woman to hospital.
Det Insp John Wrintmore said: "Due to the similarities we are connecting both incidents and we have detectives following a number of lines of inquiry to identify a suspect."
He said it was likely the suspect was local and asked anyone with information to come forward.