Horses killed by passenger trains near Darlington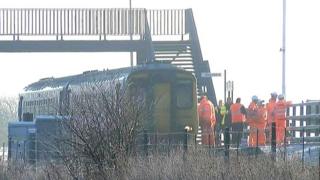 Five horses were killed when they were struck by two trains near Durham Tees Valley Airport.
The passenger services were travelling in opposite directions between Darlington and Middlesbrough shortly after 07:00 GMT.
There were no reported injuries amongst the passengers, but Northern Rail said some services faced cancellation.
British Transport Police said it was unclear how the animals got onto the tracks.
John O'Grady, spokesman for Northern Rail, said: "Two of our trains, travelling in opposite directions, struck horses which appear to have got onto the line near Durham Tees Valley Airport.
Lines closed
"They had to be stopped and we are having buses get to the scene so customers can continue their journeys.
"This means the lines will be closed while the situation is cleared.
"This will sadly cause some disruption to rail traffic in the area."
A British Transport Police spokesman added: "We were called to the railway line near Durham Tees Valley Airport after reports a number of horses had been struck by two trains.
"Colleagues from Durham Police and the Environment Agency were also in attendance. The RSPCA was also called to the scene.
"We are trying to determine how the horses came to be near the line."